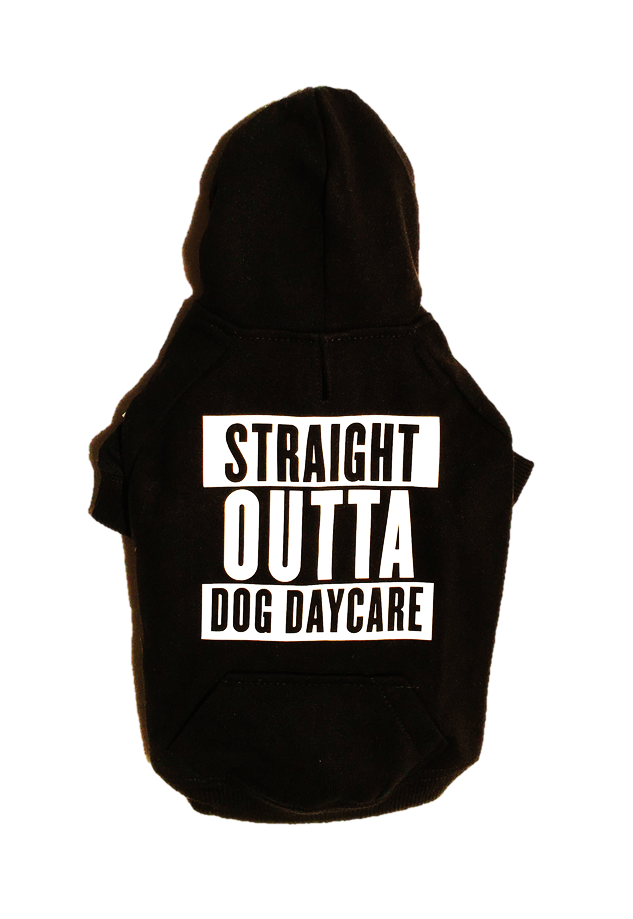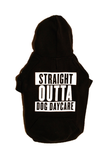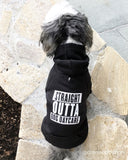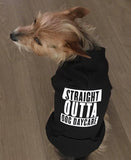 Straight Outta Dog Daycare
Straight Outta... DOG DAYCARE. This hoodie is for all the motherpuppa's out there that like to look tough. Perfect outfit for the dog daycare goer.
Our Hooded Dog Sweatshirts are made from soft cotton for a comfortable, cozy fit.
Ribbed sleeves and hem for a comfy fit.
Leash hole for convenience.
Machine washable.

Why We Love It:
For those cool weather days when you need a little extra insulation, the Navy Blue Basic Dog Hoodie sweatshirt is a perfect pick! Your pooch will enjoy the coziness and freedom of movement in this dog sweatshirt. Cute kangaroo-style pocket on back and a little stretch. 
Important Sizing Note: The following measurements are the dimensions of the actual product, not of the pet they fit. After measuring your pet, make sure all measurements fit within the following dimensions (with a little room to spare in the chest and neck).
X Small
Back Length: 8.5"
Chest: 14.5" (Most Important)
Neck: 10.25"
Hood Length: 5"
Recommended Breeds: Brussels Griffon, English Toy Spaniel, Maltese, Miniature Dachshund, Norfolk Terrier, Papillon, Yorkshire Terrier
Small
Back Length: 12"
Chest: 18" (Most Important)
Neck: 13"
Hood Length: 6"
Recommended Breeds: Australian Terrier, Border Terrier, Boston Terrier, French Bulldog, Miniature Pinscher, Toy Fox Terrier, Pug, Shih Tzu, Silky Terrier, West Highland Terrier
Medium
Back Length: 16"
Chest: 21" (Most Important)
Neck: 15.25"
Hood Length: 7"
Recommended Breeds: Beagle, Bichon Frise, Brittany Spaniel, Cocker Spaniel, Corgi, Parson Russell Terrier, Scottish Terrier, Wire Fox Terrier, Havanese, Welsh Terrier
Large
Back Length: 19.25"
Chest: 25" (Most Important)
Neck: 16"
Hood Length: 8"
Recommended Breeds: Australian Shepherd, Border Collie, Bulldog, Dalmatian, Standard Schnauzer
X Large
Back Length: 24"
Chest: 30" (Most Important)
Neck: 18"
Hood Length: 10"
Recommended Breeds: Collie, Golden Retriever, Labrador Retriever, Rottweiler, Vizsla, Weimaraner
2X Large
Back Length: 30"
Chest: 37" (Most Important)
Neck: 26"
Hood Length: 22"
Recommended Breeds: Irish Wolfhound, Mastiff, Newfoundland, St. Bernard
Care: Machine wash inside out, cold on a gentle cycle. Line dry.